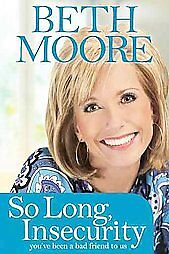 As I told you in an earlier article…I got to attend the Beth Moore- "So Long Insecurity" Simulcast on April 24, last weekend.  It was an amazing experience!!!  I could relate to SO much of what she had to say.  One of the thoughts that really got me was her statement about:
"We were meant to be incredible before and afters!  We were meant to be FREE!  Grace is our excuse to be completely made new NOT an excuse to live in our bondage!"  Beth Moore
That is how she started the day. What a thought!  Have you ever thought about that?  So maybe we think about it occasionally but is that how we live?  I know that I have not always been very good at that.  In this world, it is easy to have Grace become an excuse as we do things our way—continue living in whatever bondage we are in.
Learning to live as a secure woman of God is learning to live as a daughter of the King who has been completely made new!  An incredible before and after story if you will…
You can read the rest here….